IoT MONITORING: GREENHOUSE APPLICATION
Metrics never before seen

 in real-time
Meet Marie "90% difference from when I started"
Visibility
without physical checks
Farmer's Hive Greenhouse application reveal metrics never seen before in real-time. Enabling the recording of a digital template for past seasons for analysis and predictions. Our design is wireless and connects directly to the cloud. Recording metrics every few minutes. Interpreting changes in climate while identifying water usage, yield gaps & environmental patterns to organically prevent disease. 
We provide visibility while reducing physical checks. This will close the yield gaps and increase plant health with IoT remote monitoring. Farmer's Hive builds quality, robust hardware and software that streamlines various activities for you. This includes accurate environmental data such as air temperature, air humidity, soil moisture, soil temperature, atmospheric pressure, and various other sensor technologies. 
Our devices do not require third parties, special installation or a technical mindset to operate. You will simply receive the package, connect to power, relax, and let Farmer's Hive do the work.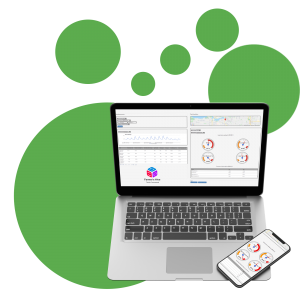 Real-world example of
Greenhouse Monitoring
One Farmer's Hive customer is growing vegetables, fruits & plants in New Mexico while living three weeks of the month in Northern California, which is 1100 miles away. You might be scratching your head right now but trust us, it is possible with our technology. New Mexico experiences rapid changes in climate so being away for 3 weeks would have meant a loss. The entire crop would not have stood a chance surviving the three weeks of absence.
Farmer's Hive technology stepped in to remotely track the environment in real-time as a plug & play solution which meant, wireless, no computer, no third party network, or installers. When the IoT device was received by mail, it was then connected to a standard electrical outlet and instantly began sending a live stream of environmental data such as air temperature, humidity, soil moisture, soil temperature, atmospheric pressure, etc.
The information was retrieved in California through the Farmer's Hive cloud-based platform. The user could then begin to understand what was happening from anywhere, in real-time. With this new information and historical environmental data, adjustments could be made and the survival rate climbed substantially. Within a few weeks, the plants flourished, producing fruits and vegetables as never before seen.